Sobre nosotros
The Palace Of India te ofrece la más exquisita variedad de India que puedes encontrar en Mijas. Ven a visitarnos o haz tu pedido online. Verás como te sorprenderemos con nuestras especialidades.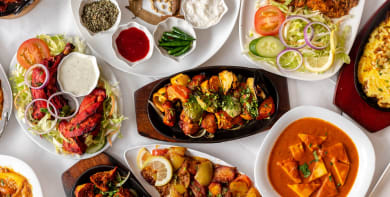 Opiniones
41 comentarios
Yolanda
"Llego perfecto y muy bueno."
04/07/2020
Tamara
"30 minutos"
27/05/2020
Lisa
"Amazing food as always and very polite delivery driver ⭐"
19/05/2020
Antonio
"Como siempre buenísimo. Recomendable. Desde que me lo aconsejo un amigo hace un par de años, es uno de nuestros restaurantes preferidos tanto en el restaurante como a domicilio."
26/04/2020
Menú
Boiled Rice
Basmati rice cooked to perfection
Arroz basmat
2,50 €
Pilau Rice
Special basmati rice with spices
Arroz basmati con especias
3,00 €
Mushroom Rice
Special basmati rice with mushrooms
Arroz basmati con champiñones
3,50 €
Special Fried Rice
Special basmati rice fried with egg and peas
Arroz basmati con huevo y guisantes
3,50 €
Veg Jeera Rice
Mix vegetables cumin seeds
Mezcla semillas de comino con verduras
4,00 €
Keema Rice
Special basmati rice with minced lamb
Arroz basmati con carne picada de cordero
4,00 €
Coconut Rice
Sweet basmati coconut rice served in its special colour
Arroz basmati dulce de coco servida en su color especial
4,20 €
Vindaloo Very Hot / Muy Picante
Phal Extremely Hot / Muy Muy Picante
Little Spice/Poco Picante
Prawn Saag
Prawns with spinach in herbs and spices
Gambas con espinacas y especias
9,90 €
Prawn Bhoona
Prawns cooked with fresh tomatoes, pepper, onions and mixed spices
Gambas cocinadas con tomates frescos, pimienta, cebolla y especias
9,90 €
Prawn Makhni
Prawns cooked whole cuman, herbs and makhni sauce
Gambas cocinadas con gambas y especias
9,90 €
Prawn Dhansak
Prawns cooked with various lentils and fresh coriander
Gambas cocinadas con lentejas y salsa curry
9,90 €
Prawn Pasanda
Cooked with almond sauce, onions, spices, cream and served with seasonal herbs
Cocinado en salsa de almendra, cebolla, nata y especias frescas
9,90 €
Prawn Kadhai
Prawns cooked with ginger, garlic and various spices
Gambas en salsa cocinado con ajo, jengibre y especias
9,90 €
Prawn Ginger
Prawns cooked in a finely chopped ginger
Gambas cocinadas con salsa de jengibre cortado muy fino
9,90 €
Prawn Curry / Madras / Vindaloo / Phal
Prawns in a hot (madras) sauce or in a very hot (vindaloo) sauce or an extremely hot (phal) sauce
Gambas en salsa madras (picante) o en salsa vindaloo (muy picante) o en salsa phal (muy muy picante)
9,90 €
Prawn Balti
Prawns with onions, tomato, green peppers, special herbs & spices served in a wok
Gambas con cebollas, tomate y pimientos verdes servido en una cazuela especial
9,90 €
Prawn Jalfrazy
Prawns cooked with tomato, green peppers, onions and fresh green chillis
Gambas con tomate, pimiento verde, cebollas y guindillas verdes
9,90 €
Prawn Mushroom
Prawns with mushrooms, herbs and spices
Gambas con champiñones y especias
9,90 €
Prawn Masala
Prawns with onions, tomatoes, herbs and spices
Gambas con tomate, cebolla, hierbas y especias
10,20 €
Prawn Korma
Prawns in a rich sauce of almonds and cream
Gambas con rica salsa de almendras y nata
10,50 €
Plate of Chips / Patatas Fritas
2,75 €
Chicken Tikka and Chips or Rice / Pollo Tikka y Patatas Fritas o Arroz
4,95 €
Egg and Chips / Huevos Fritos y Patatas Fritas
4,95 €
Chicken Nuggets and Chips / Nuggets y Patatas Fritas
4,95 €
Fish and Chips / Pescado y Patatas Fritas
4,95 €
Daal Soup
Lentil soup with spices and fresh coriander
Sopa de lentejas con especias y cilantro
3,20 €
Fresh Veg Soup
Vegetable soup
Sopa de verduras
3,00 €
Seafood Soup
Sopa de marisco
4,00 €
Chapatti
Baked bread
Pan integral al horno
1,75 €
Plain Nan
Bread baked in a clay
Pan al horno
2,50 €
Roti Tandoori
Brown roti bread cooked in a tandoori oven
Pan integral al horno tandoori
2,00 €
Parataa
Brown bread filled with butter
Pan relleno con mantequilla
2,90 €
Garlic Nan
Nan bread filled with garlic cooked in a tandoori oven
Pan relleno con ajo al horno tandoori
3,00 €
Onion Kulcha
Nan bread filled with onion cooked in a tandoori oven
Pan relleno con cebolla al horno tandoor
3,00 €
Keema Nan
Nan bread filled with minced lamb
Pan relleno con carne picada de cordero
3,50 €
Cheese Nan
Nan bread filled with cheese cooked in a tandoori oven
Pan relleno con queso al horno tandoori
3,50 €
Methi Parata
It is made up of whole wheat flour and fenugreek leaves
Se compone de hojas enteras de harina de trigo y de alholva
3,50 €
Peshwari Nan
Sweet nan bread filled with almonds grated coconut and sugar cooked in a tandoori oven
Pan relleno con almenras, coco y azúcar al horno tandoori
3,50 €
Stuffed Parataa
Brown bread filled with potatoes
Pan integral relleno con patatas
3,50 €
Chicken Curry / Madras / Vindaloo / Phal
Chicken in a hot (madras) sauce or in a very hot (vindaloo) sauce or an extremely hot (phal) sauce
Pollo en salsa madras (picante) o en salsa vindaloo (muy picante) o en salsa phal (muy muy picante)
7,90 €
Chicken Saag
Chicken with spinach in herbs and spices
Pollo con espinacas y especias
7,90 €
Chicken Bhoona
Chicken cooked with fresh tomatoes, pepper, onions and mixed spices
Pollo cocinado con tomates frescos, pimienta, cebolla y especias
7,90 €
Chicken Makhni
Pieces of chicken cooked whole cuman, herbs and makhni sauce
Trozos de pollo cocinados con hierbas y especias
7,90 €
Chicken Dhansak
Chicken pieces cooked with various lentils and fresh coriander
Pollo cocinado con lentejas y salsa curry
8,00 €
Chicken Ginger
Pieces of chicken cooked in finely chopped ginger
Trozos de pollo cocinados con salsa de jengibre cortado muy fino
8,00 €
Mango Chicken
Chicken cooked in delicious mango sauce traditionally enjoyed mild
Trozos de pollo cocinados con salsa de mango
8,00 €
Chicken Pasanda
Cooked with almond sauce, onions, spices, cream and served with seasonal herbs
Cocinado en salsa de almendra, cebolla, nata y especias frescas
8,00 €
Chicken Kadhai
Chicken cooked with ginger, garlic and various spices
Pollo en salsa cocinado con ajo, jengibre y especias
8,00 €
Aloo Chicken
Chicken, potatoes cooked in curry sauce
Pollo y patata cocinado junto en salsa de curry
8,20 €
Chicken Balti
Chicken with onions, tomato, green peppers, special herbs & spices served in a wok
Pollo con cebollas, tomate y pimiento verde servido en una cazuela especial
8,20 €
Chicken Do-Piaza
Chicken pieces with cubed onions, herbs and spices
Trozos de pollo con cebollas, hierbas y especias
8,20 €
Chicken Tikka Bhuna
Chicken tikka pieces with fresh tomato, pepper, onions and mixed spices
Trozos de pollo tikka con tomate fresco, pimienta, cebollas y especias
8,50 €
Chicken Patia
Chicken cooked sweet and sour sauce
Pollo en salsa agridulce
8,00 €
Chicken Jalfrazi
Chicken cooked with tomato, green peppers, onions and fresh green chillis
Pollo con tomate, pimiento verde, cebollas y guindillas verdes
8,00 €
Chicken Mushroom
Chicken pieces with mushrooms, herbs and spices
Pollo con champiñones y especias
8,00 €
Garlic Chilli Chicken
Chicken with fresh chillis, garlic, herbs & spices served hot or very hot
Pollo con guindillas frescas, ajo, hierbas y especias, picante o muy picante
8,50 €
Chicken Korma
Chicken in a rich sauce of almonds and cream
Pollo con rica salsa de almendras y nata
8,50 €
Chicken Tikka Masala
Chicken tikka pieces marinated in spices and cooked in a tomato and onion sauce
Trozos de pollo tikka marinados en especias y en salsa de tomate y cebolla
8,50 €
Lamb Curry / Madras / Vindaloo / Phal
Lamb in a hot (madras) sauce or in a very hot (vindaloo) sauce or an extremely hot (phal) sauce
Cordero en salsa madras (picante) o en salsa vindaloo (muy picante) o en salsa phal (muy picante)
8,90 €
Lamb Saag
Lamb with spinach in herbs and spices
Cordero con espinacas y especias
8,90 €
Lamb Rogan Josh
Lamb cooked in a rich gravy tomato sauce and spices
Trozos de cordero cocinados con una salsa rica de tomate y especias
8,90 €
Lamb Bhoona
Lamb cooked with fresh tomatoes, pepper, onions and mixed spices
Cordero cocinado con tomates frescos, pimienta, cebolla y especias
8,90 €
Lamb Dhansak
Lamb pieces cooked with various lentils and fresh coriander
Cordero cocinado con lentejas y salsa curry
8,90 €
Lamb Pasanda
Cooked with almond sauce, onions, spices, cream and served with seasonal herbs
Cocinado en salsa de almendras, cebolla, nata y especias frescos
9,00 €
Lamb Kadhai
Lamb cooked with ginger, garlic and various spices
Cordero en salsa, cocinado con ajo, jengibre y especias
9,00 €
Lamb Ginger
Pieces of lamb cooked in finely chopped ginger
Trozos de cordero cocinados con salsa de jengibre cortado muy fino
9,00 €
Lamb Patia
Lamb cooked sweet and sour sauce
Cordero en salsa especial agridulce
9,00 €
Lamb Korma
Lamb in a rich sauce of almonds and cream
Cordero con rica salsa de almendras y nata
9,50 €
Lamb Do-Piaza
Lamb pieces with cubed onions, herbs and spices
Trozos de cordero con cebollas, hierbas y especias
9,00 €
Lamb Balti
Lamb with onions, tomato, green peppers, special herbs & spices served in a wok
Cordero con cebollas, tomate y pimientos verdes servido en una cazuela especial
9,20 €
Lamb Tikka Masala
Lamb tikka marinated in spices and cooked in a tomato and onion sauce
Trozos de cordero tikka marinado en especias, salsa de tomate y cebolla
9,20 €
Lamb Mushroom
Lamb with mushrooms and spices
Cordero con champiñones y especias
9,00 €
Lamb Jalfrazi
Lamb cooked with tomato, green peppers, onions and fresh green chillis
Cordero con tomate, pimiento verde, cebollas y guindillas verdes
9,00 €
Lamb Malabar
Cooked with curry leaves in a coconut cream
Cocinada con hojas de curry en una crema de coco
9,50 €
Lamb Achaar
Cooked with mixed pickle, spicy sauce
Cordero cocinado con una mezcla de encurtidos y salsa picante
9,00 €
Lamb Rada
Minced lamb peas onions with various spices
Picada de cordero guisantes cebolla con diversas especias
9,00 €
Matter Paneer
Green peas and cottage cheese in a curry sauce
Guisantes con queso en salsa curry
5,50 €
Dal Tarka
Lentils cooked with herbs and spices
Lentejas cocinadas con hierbas y especias
5,50 €
Chana Masala
Chickpeas with tomatoes and spices
Garbanzos con salsa de tomate y cebolla
5,50 €
Sag Bhaji
Spinach with spices
Espinacas con especias
5,50 €
Palak Paneer
Cubes of cottage cheese in a spinach sauce
Espinaca cocinada con queso fresco
5,95 €
Bengen Bhaji
Aubergines with spices in a sauce
Berenjenas en salsa especial y especias
5,95 €
Alu Gobi
A traditional north indian dish of cauliflower and potatoes
Un plato de coliflor y patatas tradicional del norte de India
5,95 €
Alu Saag
Spinach with potatoes
Espinacas con patatas
5,95 €
Bombay Aloo
Potatoes in spices and herbs
Patatas con salsa de hierbas y especias
5,95 €
Daal Makhni
Lentil curry served in a semi thick sauce topped with butter
Lentejas al curry servido en una salsa espesa semi cubierto con mantequilla
5,95 €
Alu Matter
Potatoes and green peas in a curry sauce
Patata y guisantes en salsa de curry
5,95 €
Spicy Kadai Paneer
Cottage cheese cooked in a wok with fresh green herbs spices, tomatoes and than mixed with a spicy tomato sauce
6,00 €
Vegetable Korma
Vegetables in a rich creamy almond sauce
Verduras en salsa cremosa de almendras
6,00 €
Mushroom Bhaji
Mushrooms in a curry sauce
Champiñones en salsa curry
6,00 €
Onion Bhaji
Deep fried with gram flour & spices
Cebollas fritas con harina de garbanzos y especias
3,30 €
Veg Samosa
Stuffed with spiced vegetables
Empanadillas con verduras y especias
3,50 €
Meat Samosa
Stuffed minced meat
Empanadillas con carne picada y especias
3,50 €
Mix Veg Pakora
Batered, deep fried mixed vegetables
Rodajas de verdura mixta macerada y frita
3,50 €
Chicken Pakora
Chicken marinated spiced chick pea batter, deep fried
Pollo rebozado y frito con harina de garbanzos
4,30 €
Prawn Pakora
Golden fried sea prawns fritters.
Gambas fritas con harina de garbanzos
6,00 €
Chicken Chaat
Chicken pieces, chopped onions, tomatoes chaat masala sauce
Pollo, tiras de cebolla y salsa india
5,80 €
Paneer Pakora
Cottage cheese dipped in special batter and crips fried
Requesón en  masa especial y crips fritos
6,00 €
Vegetable Manchurian
Made with generous amount of garlic and ginger and flavoured with soya sauce vinegar
Hecho con generosa cantidad de ajo y el jengibre y el vinagre aromatizado con salsa de soja
6,00 €
Prawn Puri
Dry prawn curry served with fried indian bread
Curry seco de gambas servido con pan indio frito
6,50 €
Chicken Manchurian
Chicken pieces are marinated in exotic spices and fried in oil and cooked in spicy hot sauce
Piezas de pollo marinadas en especias exóticas y se fríen en aceite y se cocinan en salsa picante
6,80 €
Mixed Platter
A plate filled with onion bhaji, meat samosa, paneer pakora, veg samosa, prawn pakora and chicken pakora
Plato servido con bhaji, gambas pakora, paneer pakora y pollo pakora
11,50 €
Tandoori Chicken
Chicken marinated with spices cooked in a tandoori oven
Pollo con especias asado en horno tandoori
5,90 €
Chicken Tikka
Chicken marinated in herbs, spices cooked tandoori oven
Pollo con especias asado en horo tandoori
6,50 €
Sheekh Kebab
Minced lamb with spices cooked tandoori oven
Cordero picado, especias y asado en horno tandoori
6,50 €
Paneer Tikka
Cheese marinated with spices and yogurt cooked oven
Trozos de queso marinado, hecho en el horno
7,20 €
Chicken Cheese Tikka
Chicken marinated, spices cheese, cooked tandoori oven
Pollo, especias, queso asado horno tandoori
7,50 €
Garlic Chicken Tikka
Chicken pieces marinated in special garlic sauce, cooked in a tandoori oven
Trozos de pollo con especias y salsa de ajo y cocinados en horno tandoori
8,00 €
Lamb Tikka
Lamb marinated, spices cooked in a tandoori oven
Cordero con especias asado en tandoori oven
8,00 €
Chicken Shashlic
Chicken, peppers, onions marinated in herbs, spices cooked in a tandoori oven
Pollo , pimientos , cebollas marinado en hierbas, especias cocinadas en un horno tandoori
8,50 €
Chilli Chicken 65
Boneless chicken pieces marinated with various spices
Piezas de pollo sin hueso marinado con diversas especias
8,00 €
Tandoori King Prawn
King prawns marinated, cooked tandoori oven
Langostinos con especias en horno tandoori
14,50 €
Special Tandoori Mix
Chicken tikka, tandoori chicken, seekh kebab and tandoori king prawn, lamb tikka
Pollo tikka, pollo tandoori, carne picante y langostinos y cordero tandoori
16,50 €
Lamb Chops
Lamb chops marinated in herbs, spices cooked in tandoori oven
Chuletas de cordero con especias asado en tandoori oven
9,50 €
Chicken Rogan Josh
Chicken cooked in a rich gravy tomato sauce and spices
Trozos de pollo cocinados con una salsa rica de tomate y especias
8,00 €
Dhai Chicken
Chicken is marinated with yogurt and cooked with indian spices
Pollo marinado con yogur y cocinado con especias de la India
8,50 €
Butter Chicken
Grilled chicken cooked with rich tomato and butter gravy
Pollo a la barbacoa cocinado en una salsa de tomate y mantequilla
8,50 €
Chicken Moglai
A dense curry containing egg, garlic and ginger decorated with coriander
Una de curry densa que contiene el huevo , el ajo y el jengibre decorado con cilantro
8,50 €
Chicken Chasney
Curry served with sweet and sour fruit cocktail
Curry servido con la ensalada de fruta dulce y amargo
8,80 €
Dhania Chicken
Chicken marinated with yogur, corinader, and garlic-ginger in onions
Pollo marinado con yogur , cilantro y ajo y jengibre en las cebollas
8,80 €
Fish Curry / Madras / Vindaloo / Phal
Fish in a hot (madras) sauce or in a very hot (vindaloo) sauce or an extremely hot (phal) sauce
Pescado en salsa madras (picante) o en salsa vindaloo (muy picante) o en salsa phal (muy muy picante)
9,90 €
Prawn Malabar
Cooked with curry leaves in a coconut cream
Cocinada con hojas de curry en una crema de coco
9,90 €
Fish Masala
Fish with onions, tomatoes, herbs and spices
Pescado con tomate, cebolla, hierbas y especias
10,20 €
Special Mixed Balti
Lamb, prawn, chicken cooked with onions, tomatoes, ginger and fresh coriander
Pollo, cordero y gambas cocinado con cebolla, tomate, jengibre y cilantro
10,50 €
Butter Chicken
Pollo a la barbacoa cocinado en una salsa de tomate y mantequilla
Grilled chicken cooked with rich tomato and butter gravy
8,50 €
Chiken Tikka Masala
Trozos de tikka marinados en especias y en salsa de tomate y cebolla
Chicken tikka pieces marinated in spices and cooked in a tomato and onion sauce
8,50 €
Special Mixed Balti
Pollo, cordero y gambas cocinado con cebolla, tomate, jengibre y cilantro
Lamb, prawn, chicken cooked with onions, tomatoes, ginger and fresh coriander
10,50 €
Cheese Nan
Pan relleno con queso al horno tandoori
Nan bread filled with cheese cooked in a tandoori oven
3,50 €
Peshwari Nan
Pan relleno con almendras, coco y azúcar al horno tandoori
Sweet nan bread filled with almonds grated coconut and sugar cooked in a tandoori oven
3,50 €
Vegetable Biryani
Mixed vegetables, basmati rice cooked together
Verduras mixtas y arroz basmati con salsa curry
7,90 €
Chicken Biryani
Chicken cooked with basmati rice flavoured with herbs and spices
Pollo cocido con arroz basmati aromatizados con hierbas y especias
9,50 €
Lamb Biryani
Lamb and basmati rice cooked together with herbs and spices
Cordero y arroz basmati con salsa curry
10,90 €
Chicken Tikka Biryani
Chicken tikka cooked with basmati rice together
Pollo tikka y arroz basmati cocidos junto con hierbas y especias
10,50 €
Prawn Biryani
Prawns cooked with basmati rice flavoured with herbs and spices
Gambas cocidos con arroz basmati aromatizados con hierbas y especias
11,00 €
Deccan Biryani
Tandoori chicken cooked with basmati rice and decorated with boiled egg
Pollo tandoori cocinados con arroz basmati y decorado con huevo
12,00 €
King Prawn Biryani
King prawns and basmati rice cooked together
Langostinos y arroz basmati cocidos junto con hierbas y especias
14,50 €
Special Biryani
Chicken, lamb, prawns and basmati rice cooked with spices & herbs
Pollo, cordero, gambas y arroz basmati cocinado con hierbas y especias
15,00 €
Gulab Jamon
Balls of fresh cheese, dry fruits fried in butter, diced in sweet sauce
Bolas de queso fresco, fruta seca frita en mantequilla y salsa dulce
3,00 €
Mango Kulfi
Chef made icecream with mango flavour
Helado indio sabor mango
3,00 €
Pistacho Kulfi
Chef made indian icecream with pistacho flavour
Helado indio sabor pistacho
3,50 €
Ice Cream / Helado
Vainilla, chocolate or strawberry flavour
Sabor vainilla, chocolate o fresa
3,00 €
Contacta con nosotros
Encuéntranos
Avenida de Mijas 1, Mijas, 29651
Horario de apertura
Por favor, ten en cuenta que el tiempo de entrega puede variar
Realizamos entregas en
29640, 29651