Sobre nosotros
The Palace Of India te ofrece la más exquisita variedad de India que puedes encontrar en Mijas. Ven a visitarnos o haz tu pedido online. Verás como te sorprenderemos con nuestras especialidades.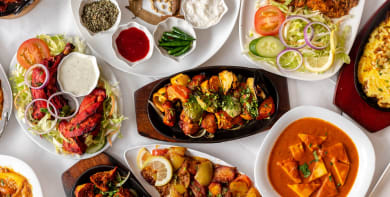 Opiniones
28 comentarios
Penelope
"Food was amazing, just the right amount of spice and heat. Very good portion sizes. Excellent all round. Will definitely order again."
24/12/2021
noecabel
"Pido en muchos Restaurantes Indios, y este para mi es el mejor de la zona ."
24/10/2021
Menú
Butter Chicken
Pollo a la barbacoa cocinado en una salsa de tomate y mantequilla
Grilled chicken cooked with rich tomato and butter gravy
8,50 €
Chiken Tikka Masala
Trozos de tikka marinados en especias y en salsa de tomate y cebolla
Chicken tikka pieces marinated in spices and cooked in a tomato and onion sauce
8,50 €
Special Mixed Balti
Pollo, cordero y gambas cocinado con cebolla, tomate, jengibre y cilantro
Lamb, prawn, chicken cooked with onions, tomatoes, ginger and fresh coriander
10,50 €
Cheese Nan
Pan relleno con queso al horno tandoori
Nan bread filled with cheese cooked in a tandoori oven
3,50 €
Peshwari Nan
Pan relleno con almendras, coco y azúcar al horno tandoori
Sweet nan bread filled with almonds grated coconut and sugar cooked in a tandoori oven
3,50 €
Plate of Chips / Patatas Fritas
2,75 €
Chicken Tikka and Chips or Rice / Pollo Tikka y Patatas Fritas o Arroz
4,95 €
Egg and Chips / Huevos Fritos y Patatas Fritas
4,95 €
Chicken Nuggets and Chips / Nuggets y Patatas Fritas
4,95 €
Fish and Chips / Pescado y Patatas Fritas
4,95 €
Onion Bhaji
Deep fried with gram flour & spices
Cebollas fritas con harina de garbanzos y especias
3,30 €
Veg Samosa
Stuffed with spiced vegetables
Empanadillas con verduras y especias
3,50 €
Meat Samosa
Stuffed minced meat
Empanadillas con carne picada y especias
3,50 €
Mix Veg Pakora
Batered, deep fried mixed vegetables
Rodajas de verdura mixta macerada y frita
3,50 €
Chicken Pakora
Chicken marinated spiced chick pea batter, deep fried
Pollo rebozado y frito con harina de garbanzos
4,30 €
Prawn Pakora
Golden fried sea prawns fritters.
Gambas fritas con harina de garbanzos
6,00 €
Chicken Chaat
Chicken pieces, chopped onions, tomatoes chaat masala sauce
Pollo, tiras de cebolla y salsa india
5,80 €
Paneer Pakora
Cottage cheese dipped in special batter and crips fried
Requesón en  masa especial y crips fritos
6,00 €
Vegetable Manchurian
Made with generous amount of garlic and ginger and flavoured with soya sauce vinegar
Hecho con generosa cantidad de ajo y el jengibre y el vinagre aromatizado con salsa de soja
6,00 €
Prawn Puri
Dry prawn curry served with fried indian bread
Curry seco de gambas servido con pan indio frito
6,50 €
Chicken Manchurian
Chicken pieces are marinated in exotic spices and fried in oil and cooked in spicy hot sauce
Piezas de pollo marinadas en especias exóticas y se fríen en aceite y se cocinan en salsa picante
6,80 €
Mixed Platter
A plate filled with onion bhaji, meat samosa, paneer pakora, veg samosa, prawn pakora and chicken pakora
Plato servido con bhaji, gambas pakora, paneer pakora y pollo pakora
11,50 €
Daal Soup
Lentil soup with spices and fresh coriander
Sopa de lentejas con especias y cilantro
3,20 €
Fresh Veg Soup
Vegetable soup
Sopa de verduras
3,00 €
Seafood Soup
Sopa de marisco
4,00 €
Tandoori Chicken
Chicken marinated with spices cooked in a tandoori oven
Pollo con especias asado en horno tandoori
5,90 €
Chicken Tikka
Chicken marinated in herbs, spices cooked tandoori oven
Pollo con especias asado en horo tandoori
6,50 €
Sheekh Kebab
Minced lamb with spices cooked tandoori oven
Cordero picado, especias y asado en horno tandoori
6,50 €
Paneer Tikka
Cheese marinated with spices and yogurt cooked oven
Trozos de queso marinado, hecho en el horno
7,20 €
Chicken Cheese Tikka
Chicken marinated, spices cheese, cooked tandoori oven
Pollo, especias, queso asado horno tandoori
7,50 €
Garlic Chicken Tikka
Chicken pieces marinated in special garlic sauce, cooked in a tandoori oven
Trozos de pollo con especias y salsa de ajo y cocinados en horno tandoori
8,00 €
Lamb Tikka
Lamb marinated, spices cooked in a tandoori oven
Cordero con especias asado en tandoori oven
8,00 €
Chicken Shashlic
Chicken, peppers, onions marinated in herbs, spices cooked in a tandoori oven
Pollo , pimientos , cebollas marinado en hierbas, especias cocinadas en un horno tandoori
8,50 €
Chilli Chicken 65
Boneless chicken pieces marinated with various spices
Piezas de pollo sin hueso marinado con diversas especias
8,00 €
Tandoori King Prawn
King prawns marinated, cooked tandoori oven
Langostinos con especias en horno tandoori
14,50 €
Special Tandoori Mix
Chicken tikka, tandoori chicken, seekh kebab and tandoori king prawn, lamb tikka
Pollo tikka, pollo tandoori, carne picante y langostinos y cordero tandoori
16,50 €
Lamb Chops
Lamb chops marinated in herbs, spices cooked in tandoori oven
Chuletas de cordero con especias asado en tandoori oven
9,50 €
Chicken Curry / Madras / Vindaloo / Phal
Chicken in a hot (madras) sauce or in a very hot (vindaloo) sauce or an extremely hot (phal) sauce
Pollo en salsa madras (picante) o en salsa vindaloo (muy picante) o en salsa phal (muy muy picante)
7,90 €
Chicken Saag
Chicken with spinach in herbs and spices
Pollo con espinacas y especias
7,90 €
Chicken Bhoona
Chicken cooked with fresh tomatoes, pepper, onions and mixed spices
Pollo cocinado con tomates frescos, pimienta, cebolla y especias
7,90 €
Chicken Makhni
Pieces of chicken cooked whole cuman, herbs and makhni sauce
Trozos de pollo cocinados con hierbas y especias
7,90 €
Chicken Dhansak
Chicken pieces cooked with various lentils and fresh coriander
Pollo cocinado con lentejas y salsa curry
8,00 €
Chicken Ginger
Pieces of chicken cooked in finely chopped ginger
Trozos de pollo cocinados con salsa de jengibre cortado muy fino
8,00 €
Mango Chicken
Chicken cooked in delicious mango sauce traditionally enjoyed mild
Trozos de pollo cocinados con salsa de mango
8,00 €
Chicken Pasanda
Cooked with almond sauce, onions, spices, cream and served with seasonal herbs
Cocinado en salsa de almendra, cebolla, nata y especias frescas
8,00 €
Chicken Kadhai
Chicken cooked with ginger, garlic and various spices
Pollo en salsa cocinado con ajo, jengibre y especias
8,00 €
Aloo Chicken
Chicken, potatoes cooked in curry sauce
Pollo y patata cocinado junto en salsa de curry
8,20 €
Chicken Balti
Chicken with onions, tomato, green peppers, special herbs & spices served in a wok
Pollo con cebollas, tomate y pimiento verde servido en una cazuela especial
8,20 €
Chicken Do-Piaza
Chicken pieces with cubed onions, herbs and spices
Trozos de pollo con cebollas, hierbas y especias
8,20 €
Chicken Tikka Bhuna
Chicken tikka pieces with fresh tomato, pepper, onions and mixed spices
Trozos de pollo tikka con tomate fresco, pimienta, cebollas y especias
8,50 €
Chicken Patia
Chicken cooked sweet and sour sauce
Pollo en salsa agridulce
8,00 €
Chicken Jalfrazi
Chicken cooked with tomato, green peppers, onions and fresh green chillis
Pollo con tomate, pimiento verde, cebollas y guindillas verdes
8,00 €
Chicken Mushroom
Chicken pieces with mushrooms, herbs and spices
Pollo con champiñones y especias
8,00 €
Garlic Chilli Chicken
Chicken with fresh chillis, garlic, herbs & spices served hot or very hot
Pollo con guindillas frescas, ajo, hierbas y especias, picante o muy picante
8,50 €
Chicken Korma
Chicken in a rich sauce of almonds and cream
Pollo con rica salsa de almendras y nata
8,50 €
Chicken Tikka Masala
Chicken tikka pieces marinated in spices and cooked in a tomato and onion sauce
Trozos de pollo tikka marinados en especias y en salsa de tomate y cebolla
8,50 €
Lamb Curry / Madras / Vindaloo / Phal
Lamb in a hot (madras) sauce or in a very hot (vindaloo) sauce or an extremely hot (phal) sauce
Cordero en salsa madras (picante) o en salsa vindaloo (muy picante) o en salsa phal (muy picante)
8,90 €
Lamb Saag
Lamb with spinach in herbs and spices
Cordero con espinacas y especias
8,90 €
Lamb Rogan Josh
Lamb cooked in a rich gravy tomato sauce and spices
Trozos de cordero cocinados con una salsa rica de tomate y especias
8,90 €
Lamb Bhoona
Lamb cooked with fresh tomatoes, pepper, onions and mixed spices
Cordero cocinado con tomates frescos, pimienta, cebolla y especias
8,90 €
Lamb Dhansak
Lamb pieces cooked with various lentils and fresh coriander
Cordero cocinado con lentejas y salsa curry
8,90 €
Lamb Pasanda
Cooked with almond sauce, onions, spices, cream and served with seasonal herbs
Cocinado en salsa de almendras, cebolla, nata y especias frescos
9,00 €
Lamb Kadhai
Lamb cooked with ginger, garlic and various spices
Cordero en salsa, cocinado con ajo, jengibre y especias
9,00 €
Lamb Ginger
Pieces of lamb cooked in finely chopped ginger
Trozos de cordero cocinados con salsa de jengibre cortado muy fino
9,00 €
Lamb Patia
Lamb cooked sweet and sour sauce
Cordero en salsa especial agridulce
9,00 €
Lamb Korma
Lamb in a rich sauce of almonds and cream
Cordero con rica salsa de almendras y nata
9,50 €
Lamb Do-Piaza
Lamb pieces with cubed onions, herbs and spices
Trozos de cordero con cebollas, hierbas y especias
9,00 €
Lamb Balti
Lamb with onions, tomato, green peppers, special herbs & spices served in a wok
Cordero con cebollas, tomate y pimientos verdes servido en una cazuela especial
9,20 €
Lamb Tikka Masala
Lamb tikka marinated in spices and cooked in a tomato and onion sauce
Trozos de cordero tikka marinado en especias, salsa de tomate y cebolla
9,20 €
Lamb Mushroom
Lamb with mushrooms and spices
Cordero con champiñones y especias
9,00 €
Lamb Jalfrazi
Lamb cooked with tomato, green peppers, onions and fresh green chillis
Cordero con tomate, pimiento verde, cebollas y guindillas verdes
9,00 €
Lamb Malabar
Cooked with curry leaves in a coconut cream
Cocinada con hojas de curry en una crema de coco
9,50 €
Lamb Achaar
Cooked with mixed pickle, spicy sauce
Cordero cocinado con una mezcla de encurtidos y salsa picante
9,00 €
Lamb Rada
Minced lamb peas onions with various spices
Picada de cordero guisantes cebolla con diversas especias
9,00 €
Prawn Saag
Prawns with spinach in herbs and spices
Gambas con espinacas y especias
9,90 €
Prawn Bhoona
Prawns cooked with fresh tomatoes, pepper, onions and mixed spices
Gambas cocinadas con tomates frescos, pimienta, cebolla y especias
9,90 €
Prawn Makhni
Prawns cooked whole cuman, herbs and makhni sauce
Gambas cocinadas con gambas y especias
9,90 €
Prawn Dhansak
Prawns cooked with various lentils and fresh coriander
Gambas cocinadas con lentejas y salsa curry
9,90 €
Prawn Pasanda
Cooked with almond sauce, onions, spices, cream and served with seasonal herbs
Cocinado en salsa de almendra, cebolla, nata y especias frescas
9,90 €
Prawn Kadhai
Prawns cooked with ginger, garlic and various spices
Gambas en salsa cocinado con ajo, jengibre y especias
9,90 €
Prawn Ginger
Prawns cooked in a finely chopped ginger
Gambas cocinadas con salsa de jengibre cortado muy fino
9,90 €
Prawn Curry / Madras / Vindaloo / Phal
Prawns in a hot (madras) sauce or in a very hot (vindaloo) sauce or an extremely hot (phal) sauce
Gambas en salsa madras (picante) o en salsa vindaloo (muy picante) o en salsa phal (muy muy picante)
9,90 €
Prawn Balti
Prawns with onions, tomato, green peppers, special herbs & spices served in a wok
Gambas con cebollas, tomate y pimientos verdes servido en una cazuela especial
9,90 €
Prawn Jalfrazy
Prawns cooked with tomato, green peppers, onions and fresh green chillis
Gambas con tomate, pimiento verde, cebollas y guindillas verdes
9,90 €
Prawn Mushroom
Prawns with mushrooms, herbs and spices
Gambas con champiñones y especias
9,90 €
Prawn Masala
Prawns with onions, tomatoes, herbs and spices
Gambas con tomate, cebolla, hierbas y especias
10,20 €
Prawn Korma
Prawns in a rich sauce of almonds and cream
Gambas con rica salsa de almendras y nata
10,50 €
Chicken Rogan Josh
Chicken cooked in a rich gravy tomato sauce and spices
Trozos de pollo cocinados con una salsa rica de tomate y especias
8,00 €
Dhai Chicken
Chicken is marinated with yogurt and cooked with indian spices
Pollo marinado con yogur y cocinado con especias de la India
8,50 €
Butter Chicken
Grilled chicken cooked with rich tomato and butter gravy
Pollo a la barbacoa cocinado en una salsa de tomate y mantequilla
8,50 €
Chicken Moglai
A dense curry containing egg, garlic and ginger decorated with coriander
Una de curry densa que contiene el huevo , el ajo y el jengibre decorado con cilantro
8,50 €
Chicken Chasney
Curry served with sweet and sour fruit cocktail
Curry servido con la ensalada de fruta dulce y amargo
8,80 €
Dhania Chicken
Chicken marinated with yogur, corinader, and garlic-ginger in onions
Pollo marinado con yogur , cilantro y ajo y jengibre en las cebollas
8,80 €
Fish Curry / Madras / Vindaloo / Phal
Fish in a hot (madras) sauce or in a very hot (vindaloo) sauce or an extremely hot (phal) sauce
Pescado en salsa madras (picante) o en salsa vindaloo (muy picante) o en salsa phal (muy muy picante)
9,90 €
Prawn Malabar
Cooked with curry leaves in a coconut cream
Cocinada con hojas de curry en una crema de coco
9,90 €
Fish Masala
Fish with onions, tomatoes, herbs and spices
Pescado con tomate, cebolla, hierbas y especias
10,20 €
Special Mixed Balti
Lamb, prawn, chicken cooked with onions, tomatoes, ginger and fresh coriander
Pollo, cordero y gambas cocinado con cebolla, tomate, jengibre y cilantro
10,50 €
Matter Paneer
Green peas and cottage cheese in a curry sauce
Guisantes con queso en salsa curry
5,50 €
Dal Tarka
Lentils cooked with herbs and spices
Lentejas cocinadas con hierbas y especias
5,50 €
Chana Masala
Chickpeas with tomatoes and spices
Garbanzos con salsa de tomate y cebolla
5,50 €
Sag Bhaji
Spinach with spices
Espinacas con especias
5,50 €
Palak Paneer
Cubes of cottage cheese in a spinach sauce
Espinaca cocinada con queso fresco
5,95 €
Bengen Bhaji
Aubergines with spices in a sauce
Berenjenas en salsa especial y especias
5,95 €
Alu Gobi
A traditional north indian dish of cauliflower and potatoes
Un plato de coliflor y patatas tradicional del norte de India
5,95 €
Alu Saag
Spinach with potatoes
Espinacas con patatas
5,95 €
Bombay Aloo
Potatoes in spices and herbs
Patatas con salsa de hierbas y especias
5,95 €
Daal Makhni
Lentil curry served in a semi thick sauce topped with butter
Lentejas al curry servido en una salsa espesa semi cubierto con mantequilla
5,95 €
Alu Matter
Potatoes and green peas in a curry sauce
Patata y guisantes en salsa de curry
5,95 €
Spicy Kadai Paneer
Cottage cheese cooked in a wok with fresh green herbs spices, tomatoes and than mixed with a spicy tomato sauce
6,00 €
Vegetable Korma
Vegetables in a rich creamy almond sauce
Verduras en salsa cremosa de almendras
6,00 €
Mushroom Bhaji
Mushrooms in a curry sauce
Champiñones en salsa curry
6,00 €
Vegetable Biryani
Mixed vegetables, basmati rice cooked together
Verduras mixtas y arroz basmati con salsa curry
7,90 €
Chicken Biryani
Chicken cooked with basmati rice flavoured with herbs and spices
Pollo cocido con arroz basmati aromatizados con hierbas y especias
9,50 €
Lamb Biryani
Lamb and basmati rice cooked together with herbs and spices
Cordero y arroz basmati con salsa curry
10,90 €
Chicken Tikka Biryani
Chicken tikka cooked with basmati rice together
Pollo tikka y arroz basmati cocidos junto con hierbas y especias
10,50 €
Prawn Biryani
Prawns cooked with basmati rice flavoured with herbs and spices
Gambas cocidos con arroz basmati aromatizados con hierbas y especias
11,00 €
Deccan Biryani
Tandoori chicken cooked with basmati rice and decorated with boiled egg
Pollo tandoori cocinados con arroz basmati y decorado con huevo
12,00 €
King Prawn Biryani
King prawns and basmati rice cooked together
Langostinos y arroz basmati cocidos junto con hierbas y especias
14,50 €
Special Biryani
Chicken, lamb, prawns and basmati rice cooked with spices & herbs
Pollo, cordero, gambas y arroz basmati cocinado con hierbas y especias
15,00 €
Boiled Rice
Basmati rice cooked to perfection
Arroz basmat
2,50 €
Pilau Rice
Special basmati rice with spices
Arroz basmati con especias
3,00 €
Mushroom Rice
Special basmati rice with mushrooms
Arroz basmati con champiñones
3,50 €
Special Fried Rice
Special basmati rice fried with egg and peas
Arroz basmati con huevo y guisantes
3,50 €
Veg Jeera Rice
Mix vegetables cumin seeds
Mezcla semillas de comino con verduras
4,00 €
Keema Rice
Special basmati rice with minced lamb
Arroz basmati con carne picada de cordero
4,00 €
Coconut Rice
Sweet basmati coconut rice served in its special colour
Arroz basmati dulce de coco servida en su color especial
4,20 €
Chapatti
Baked bread
Pan integral al horno
1,75 €
Plain Nan
Bread baked in a clay
Pan al horno
2,50 €
Roti Tandoori
Brown roti bread cooked in a tandoori oven
Pan integral al horno tandoori
2,00 €
Parataa
Brown bread filled with butter
Pan relleno con mantequilla
2,90 €
Garlic Nan
Nan bread filled with garlic cooked in a tandoori oven
Pan relleno con ajo al horno tandoori
3,00 €
Onion Kulcha
Nan bread filled with onion cooked in a tandoori oven
Pan relleno con cebolla al horno tandoor
3,00 €
Keema Nan
Nan bread filled with minced lamb
Pan relleno con carne picada de cordero
3,50 €
Cheese Nan
Nan bread filled with cheese cooked in a tandoori oven
Pan relleno con queso al horno tandoori
3,50 €
Methi Parata
It is made up of whole wheat flour and fenugreek leaves
Se compone de hojas enteras de harina de trigo y de alholva
3,50 €
Peshwari Nan
Sweet nan bread filled with almonds grated coconut and sugar cooked in a tandoori oven
Pan relleno con almenras, coco y azúcar al horno tandoori
3,50 €
Stuffed Parataa
Brown bread filled with potatoes
Pan integral relleno con patatas
3,50 €
Gulab Jamon
Balls of fresh cheese, dry fruits fried in butter, diced in sweet sauce
Bolas de queso fresco, fruta seca frita en mantequilla y salsa dulce
3,00 €
Mango Kulfi
Chef made icecream with mango flavour
Helado indio sabor mango
3,00 €
Pistacho Kulfi
Chef made indian icecream with pistacho flavour
Helado indio sabor pistacho
3,50 €
Ice Cream / Helado
Vainilla, chocolate or strawberry flavour
Sabor vainilla, chocolate o fresa
3,00 €
Contacta con nosotros
Encuéntranos
Avenida de Mijas 1, Mijas, 29651
Horario de apertura
Por favor, ten en cuenta que el tiempo de entrega puede variar
Realizamos entregas en
29640, 29651